Ingredients
Serves 4
4-6 mackerel fillets, depending on the size
1tsp dried or fresh thyme
250g cherry tomatoes, halved
200g spinach leaves
2 small beetroot or 250g cooked betroot
1 clove garlic, finely chopped
juice ½ lemon
3tbsp creme fraiche
3tbsp olive oil
1tbsp grated horseradish
To avoid staining everything pink, make sure you wash your hand and all utensils as soon as you've finished preparing the beetroot.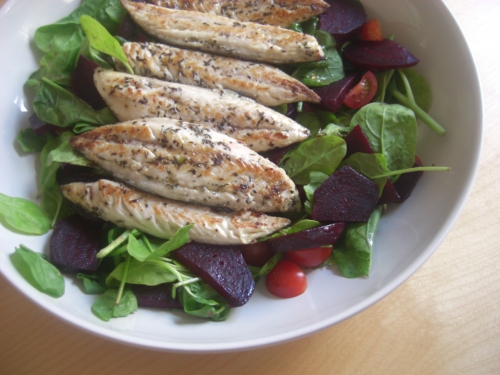 Beetroot and Mackerel Salad
A simple and delicious salad full of nutritious things. The horseradish adds a real kick.
Recipe
Boil the beetroot for 40-45mins or until soft. Drain and cool. Peel off the skin and cut into thin wedges. Meanwhile drizzle 1tbsp olive over the mackerel, season and sprinkle over the thyme, rub the marinade into the fish well.

Heat a frying pan until smoking, add the mackerel to the pan skin side down, fry on each for a few mins. Remove and squeeze over a little lemon juice.

To make the dressing, whisk the olive oil, lemon juice, horseradish, garlic, creme fraiche and seasoning together.

To assemble the salad, mix the vegetables and drizzle over the dressing and mix. Lay the mackerel fillets on top.