Ingredients
Serves 4
300g shortcrust pastry
25g unsalted butter
3 red onions, halved and finely sliced
2 tbsp balsamic vinegar
500g small beetroot, boiled, peeled and sliced.
1 small bunch spring onions, finely sliced
1 small goat's cheese log
All you need is a simple salad on the side or even better a potato salad slick with mayonnaise.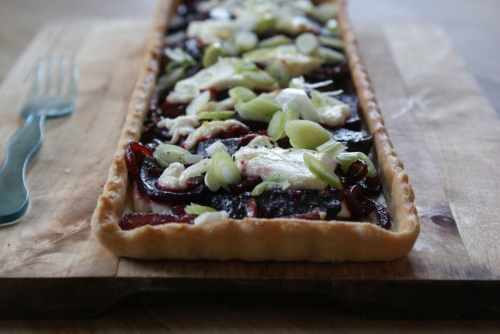 Beetroot and Goat's Cheese Tart
Buttery pastry, sweet roasted beetroot and sharp goats cheese - a trio made in heaven.
Recipe
Preheat the oven to 200C. Line a 24cm tart or flan tin with the pastry and bake blind.

Melt the butter in a pan and gently fry the onions until soft. Add the beetroot slices, balsamic vinegar and a generous pinch of salt and pepper. Cook until almost all the liquid is absorbed and the mix is glossy.

Cut the cheese into 1cm slices and lay a few on the base of the tart. Tip in the beetroot mix and put the rest of the cheese on top. Bake for 15-20 minutes, until the cheese is bubbling and golden. Sprinkle the spring onions on top to serve.
Still Hungry?
Keep Searching...