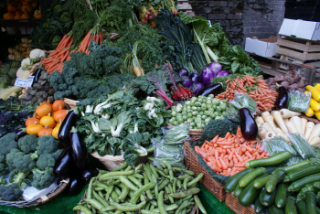 Farmers' Markets
Oxford Farmers' Market Guide
Should one occur at a convenient enough time, markets are really the most pleasant way to shop for food. Stalls groaning with produce lovingly grown and harvested, there's no anaemic plastic wrapped veggies here.
Go to the right one and you can rest assured that whatever you buy is produced locally to high environmental standards, and that in buying it you are also supporting the local economy. Shopping at a market is an altogether more pleasant experience, if you're prepared to barter, you can get yourself some real bargains.
What's more, seasonal food from the farm just tastes better!
Can't make a market?
Visit a farm shop or try a veg box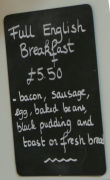 Wolvercote Market
Special offer!
Start the day in style at the cafe at Wolvercote Farmers' Market. A full english beakfast using the finest local ingredients, free papers and with this voucher, a FREE coffee!
A short cycle up Woodstock Road, definitely worth a visit.
Click here to download.
What's On?
Wednesday
Thursday
Friday
Saturday
Sunday
Please check websites for what's available currently.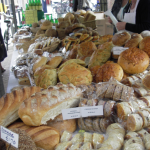 Sandy Lane Farmers' Market
website
Thursday 2-6pm
Where: Sandy Lane Farm, Tiddington, OX9 2LA


A wide range of organic and local vegetables, meat, fruit, jams, cakes, bread and flowers. There is an emphasis on seasonal produce, so the choice varies.

Back to top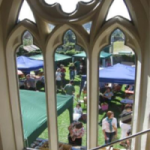 Website
Saturdays between 10am and 1pm
Where: East Oxford Primary School, behind Tesco off the Cowley Road.

A cafe serving meals and snacks alongside the usual cakes, bread, eggs and vegetables.

Back to top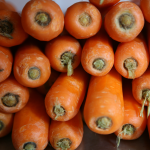 Website
Wednesday 8am to 4pm
Where: Gloucester Green




Fresh fruit, vegetables, meat and fish.

Back to top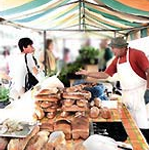 Website
First and third Thursday of every month
Where: Gloucester Green


All product grown and produced locally

Back to top
Website
Sunday 10am-1pm
Where: Wolvercote Primary School


A wide range of mostly organic, local produce, including fruit and veg; cheese (goat's and cow's); beef, lamb and pork; eggs and milk; home made bread, cakes, croissants. FREE cup of tea or coffee with your breakfast.

Back to top
Website
4th Sunday in every month
8am - 12.30pm
Where: At the top end of Kennett Road, near to London Road.

Fresh fruit, vegetables, meat and fish, cheese and bread.

Back to top