Ingredients
Serves 4
200g bulghar wheat, cooked
2 courgettes
3 tbsp olive oil
1 clove garlic, finely chopped
1 red chilli, finely chopped
1 bunch parsley, chopped
1 bunch coriander, chopped
1 red onion, finely chopped
1 orange, zest and juice of ½
75g pistachios, chopped
This is great with lefotver roast chicken and is perfect for packed lunches.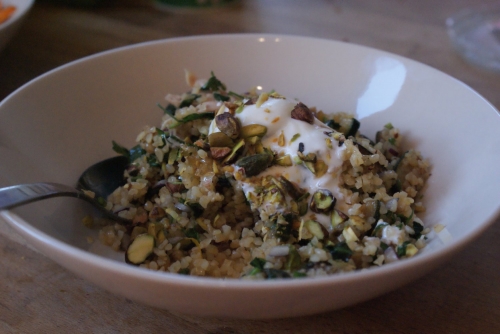 Courgette and Pistachio Bulghar Wheat Salad
A zingy bulghar wheat salad packed full of parsley and coriander, pistachios and orange. Feel free to subsitute couscous for the bulghar wheat.
Recipe
Top and tail the courgettes, slice into 4 lengthways and slice into chunks.

Heat a frying pan with 2tbsp olive oil and fry the courgettes for 5 mins or so until golden brown and cooked through. Season well and add a splash of orange juice.

Mix with the bulghar wheat and add the rest of the ingredients saving some pistachios to sprinkle over later.

Serve with a spoon of yoghurt and sprinkled with the reserved pistachios.