Ingredients
Serves 4
350g couscous
2tsp ground ginger
2tsp ground coriander
½ tsp salt
350ml vegetable stock
1 head brocolli
75ml orange juice - about ½ large orange
zest 1 orange
4tbsp olive oil
1 clove garlic, finely chopped
½ red chilli, finely chopped
100g flaked almonds, toasted in a dry pan until golden
1 small red onion
250g smoked mackerel
You can subsitute the brocolli for other green veg, such as rocket, or baby spinach leaves.
Perfect to keep in the fridge for a few days and used in lunchboxes.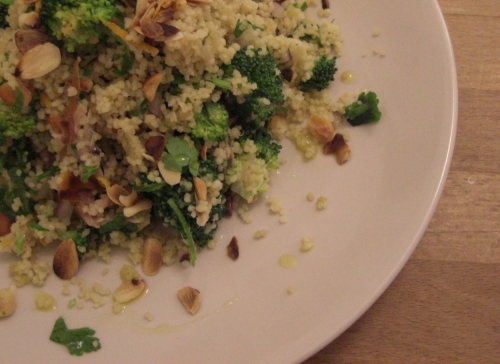 Moroccan Mackerel and Citrus Couscous
A cous cous salad full or Moroccan sweet and spicy flavours that pair perfectly with the oily mackerel.
Recipe
Toss the cous cous with the ground ginger, ground coriander and salt. Pour over the stock, cover and allow to steep.
Cut the broccoli into small chunks, either steam or boil for a few mins until cooked but still with a little bite. To maintain the vibrant green of broccoli when boiling, make sure its tipped into boiling water, not cold.
Once the couscous has soaked up all the stock, fluff with a fork and add the garlic, chilli, red onion, orange juice and zest and olive oil.
Once the broccoli is cooked, drain and add to the cous cous with the smoked mackerel, parsley and flaked almonds. Stir well and taste, you may need a little more orange juice or olive oil to lubricate, it should be zinging with flavour.
Pile onto a plate to serve and top with some parsley, flaked almonds and extra orange zest.