Ingredients
Serves 4
2 onions, finely chopped
50g butter
1 red chilli, finely chopped
1tbsp curry powder
1tsp cumin seeds
175g basmati rice
250ml vegetable stock
2-3 fillets smoked mackerel
2 eggs
½ bunch parsley, chopped
Click here for more information on sustainable fish.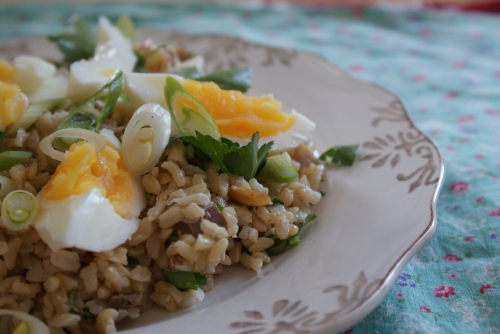 Smoked Mackerel Kedgeree
Using smoked mackerel slightly more sustainable take on the classic smoked haddock variety.

A classic brunch dish, this also makes a great lunch too.
Recipe
Cover the eggs with water and bring to the boil. Turn off the heat, cover and leave for exactly 7mins.
Fry the onion in the butter and a little oil until soft, add the spices and chilli and fry for a few minutes more.
Add the rice to the mixture and stir to coat in all the aromatic juices. Add the stock, bring to the boil, cover and simmer for 10mins until all the liquid is absorbed. Then turn off the heat and allow to stand for 5mins.
Fork through, add the smoked mackerel and parsley and season to taste.