Ingredients
Serves 4
750g new potatoes
3 tbsp olive oil
400g smoked mackerel
200g greek yoghurt
2tsp english mustard
1 lemon, juiced
1 red onion, finely chopped
4 tbsp capers, drained
1 bunch parsley, chopped
300g radishes, quartered
This can be made ahead, but mix the radishes and dressing in just before serving, otherwise the radish can become rather limp, and the dressing may lose its fresh punchy flavours.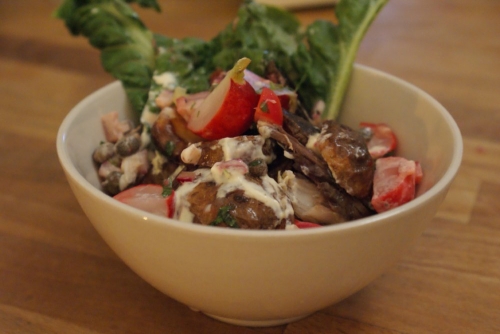 Smoked Mackerel, New Potato and Radish Salad
A perfect salad for when spring has sprung. With a few crunchy lettuce leaves, this makes a substantial lunch.
Recipe
Heat the oven to 200°C. Pour the olive oil into a large roasting tray, and pop it in the oven to heat up.

Meanwhile rinse the potatoes and wash off any dirt using your hands or a vegetable brush. Slice into 1cm thick coins. Carefully add to the hot baking tray, stir until well coated in the hot oil and season well with salt and pepper.

Roast the potato slices for 20mins, stirring occasionally until golden brown, and soft inside. Don't worry if the slices become a little stuck, use a spatula to scrape them off the bottom of the tray, this just creates more crispy bits. After the 20mins cooking time, place the mackerel fillets onto the potatoes in the oven to warm up, and cook for a further 10 minutes.

While this is all cooking, make a yogurty dressing by adding the english mustard and half the lemon juice to the yoghurt along with a pinch of salt and pepper and stir well.

Once the potatoes and mackerel are cooked, remove the mackerel from the tray and put to one side. Transfer the potato slices to a large bowl along with as much of the roasting oil as possible. Flake the smoked mackerel using a fork or your fingers, and add to the bowl. Finally, add the red onion, capers, parsley, radishes and the rest of the lemon juice.

Dollop on the dressing and mix very gently, you don't want the salad to be completey covered.