Ingredients
Makes 12-15 muffins
250g sugar
200g flour
100g oats
1tsp salt
2tsp cinnamon
1 tsp bicarbonate of soda
250ml oil
4 eggs
3 medium carrots, grated
1 apple, grated
100g walnuts, chopped
100g raisins
Make these at the weekend and store in an airtight container for breakfast all week.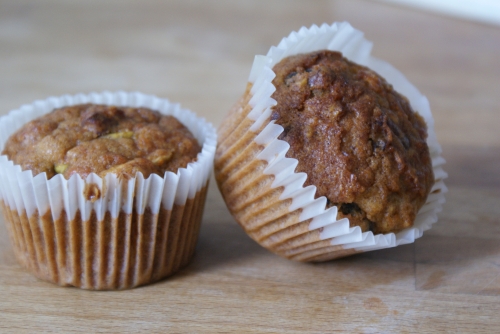 Breakfast Muffins
Packed full of carrot, apple, nuts and oats for a healthy start to the day!
Recipe
Boil the kettle and cover the raisins with the hot water in a bowl. Meanwhile measure out the sugar, flour, oats, salt, cinnamon and soda in a large bowl. Add the oil and whisk well to combine. Crack the eggs in and whisk. Drain the water off the now plump raisins, and add the raisins to the batter along with the carrots, apple and walnuts. Stir well. Spoon the mixture into the muffin cases, bear in mind that the mixture doesn't rise an awful lot so you can fill the cases at least 2/3 full. Bake at 180C for about 20mins until golden and a skewer comes out clean.