Ingredients
Makes 8 slices
2 tbsp syrup
75g butter
100ml boiling water
1 tea bag (optional)
50g dried apricots, chopped
50g chopped dates (you can buy them ready chopped)
50g raisins
3 tbsp pumpkin seeds (optional)
200g oats
1 tsp cinnamon (optional)
1 tsp ground ginger (optional)
Store in an air tight tin or box for up to a week. We like to take one as a quick breakfast on the run.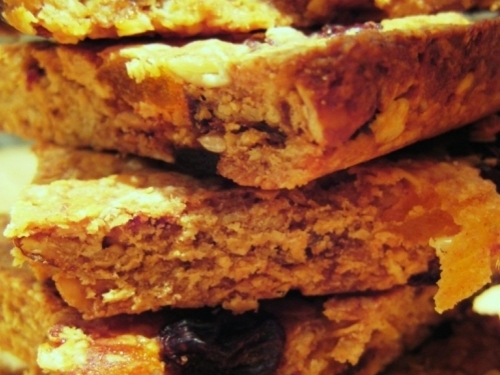 Fruity flapjack
This is by no means a purist's flapjack as it could take more butter and syrup, but as I made this recipe to sate mid afternoon hunger without it being too unhealthy a snack I was aiming for a soft texture that would suit a cup of tea and hungry tummy.

Please feel free to adulterate the fruit in the recipe, but if you do change the amount of fruit, or omit it, please do the same with the water - it needs the sticky sweet juices of the fruit in order to work. This recipe would work with other dried fruits in their place, as well as with other seeds or some nuts.
Recipe
Pre heat the oven to 180 deg C. Grease and line a small tin, something like 20 x 20 cm.

Put the butter and syrup in a sauce pan and heat on a low heat, melting them together.

Boil some water in the kettle, add to the teabag (if using). Use this tea to soak the dried fruits - apricots, dates, and raisins, in a small bowl. Mix up with a spoon and leave aside for 5 mins.

Tip the soaked fruit into the pan with the melted butter and syrup, add the cinnamon and ginger if using, and continue to heat gently for a minute or so. Then add the oats and pumpkin seeds, stiring well to combine. Tip into the lined tin, and press down to make an even layer. I use my trusty potato masher to do this.

Pop into the oven, and bake for 20-30 minutes until golden and cooked.