Ingredients
Serves 4
1 onion, peeled and finely chopped
2 tbs olive oil
2 bags fresh spinach (usually around 200g per bag)
2 vegetable stock cube (or tsp bouillon powder
2 tbsp ground almond
100g potato, (one small potato) peeled and chopped into a fine dice
Zest from half a lemon
Optional - 4 tbsp flaked almonds to serve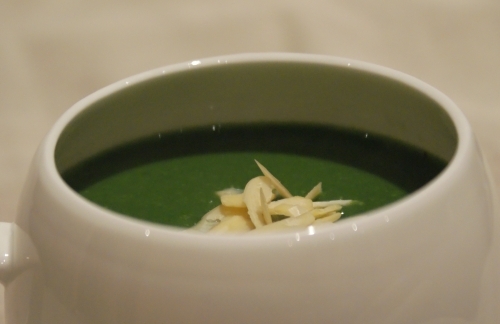 Spinach Soup
A simple and tasty soup.



By Rowena
Recipe
Use a large pan for this recipe - the spinach leaves take up a lot of space until they've cooked down.

Fry the onion gently with the oil on a low heat until it begins to turn golden. Then, add the spinach to the pan, turn the heat down and put the lid on. The large volume of spinach will shrink, and the leaves become wrinkled and dark green.

As the spinach begins to cook, prepare the stockcubes by dissolving in 800ml hot water.

Add the ground almond to the pan with the spinach and stir in until well combined.

Add the stock and potato pieces, and bring to the boil. Simmer the soup for 8-10 minutes, checking if it's done by removing a piece of potato - if it's tender then the soup is ready to go.

Then turn off the heat, add the lemon zest, and allow the contents of the pan to cool slightly. The spinach should have changed the soup into a rich, dark green colour.

Blend the cooled soup until a smooth, appetising consistency, then reheat. This recipe uses no added salt because of the stock cube, but seasoning and additional ground almond may be added on reheating. To serve, ladle into four bowls, and sprinkle the flaked almonds over the top.

You can also adjust the thickness by either boiling off some of the water or adding more - if adding more, milk is good for keeping the soup rich.