Ingredients
Serves 4
1 butternut squash (about 1kg in weight), peeled and cut into 2cm cubed chunks
2 red onions, peeled and cut into eights
3 cloves garlic, skin on, smashed with the heel of your hand
3 tbsp olive oil
1 tsp ground cumin
1 tsp ground coriander
1 red chilli finely chopped or 1 tsp dried chilli flakes
600ml vegetable stock (from a cube is fine)

To serve:
Yoghurt, sour cream, creme fraiche or double cream.
Stir some pesto into the double cream/yogurt/creme fraiche if you want for an added flavour.
This will keep well in the fridge for a few days in a sealed container, and freezes excellently.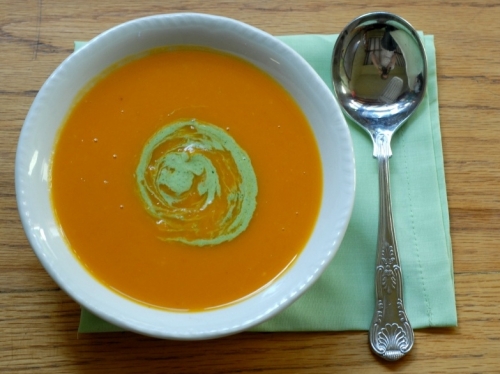 Easy Butternut Squash Soup
An easy soup recipe, just roast the veg for 45mins and blend with stock for a vibrant, smooth soup.
Recipe
Preheat the oven to 200&Deg;C. Spread the chopped squash and onions onto a baking tray and drizzle with the oil, sprinkle over the spices, chilli and garlic and stir to coat evenly. Roast for 30-45mins, turning occasionally until the squash is soft (test with the tip of a knife) and turning golden brown on the edges.
Remove the garlic from the tray, and scrape everything else into a blender. Now squeeze the gooey insides form the garlic into the blender too. Add the stock and blend for at least 2mins or until the soup is completely smooth, you may need to add some water to loosen it and season to taste.
Serve with a dollop of yoghurt, sour cream/creme fraiche, double cream.