Ingredients
Serves 4
1 onion, finely chopped
1 red chilli, finely chopped
1 small butternut squach cut into small pieces
2 parsnips cut into small cubes
2 carrots cut into small cubes
1 bayleaf
3 cardamom pods
1 tsp ground coriander
¼ tsp ground nutmeg
½ tsp ground ginger
½ tsp ground turmeric
Small pinch smoked paprika
1tsp cinnamon
½ tbsp honey
700ml vegetable stock
250g dried apricots, sliced
100g pine nuts
1 bunch coriander chopped
Use whatever squashes or pumpkin that are in season.
The tagine can be frozen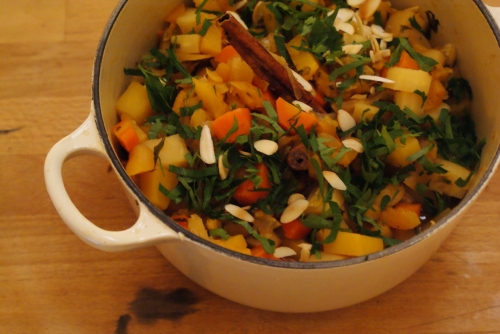 Vegetable Tagine
This is a step up from the ubiquitous vegetable tagines, there is a real depth of flavour here. You can't really go wrong topping this pine nuts and coriander, they counteract the sweetness of the tagine perfectly.
Recipe
Fry the onions in a little oil until soft, add the squash, parsnip, carrot and chilli and fry for a few mins. Now add the spices and honey, make sure everything is evenly coated in the spices. Add the stock and simmer gently for 10mins, add the apricots and simmer until everything is well cooked. Serve with couscous, sprinkled with toasted pine nuts and chopped coriander.