Ingredients
Serves 4
1 onion, chopped
3 cloves garlic, chopped
3 medium carrots, diced
4 medium sized beetroots
¼ chilli, chopped
2 tsp bouillon powder (or a vegetable stock cube, crumbled)
1 lime
100ml vodka
To serve:
plenty of yoghurt
1 bunch spring onions, finely chopped
To prevent staining everything you own pink (including your hands). Make sure you wash your choppoing board and hands immediately after handling the beetroot.
This can be made a day or two in advance or ven frozen. Only add the vodka and lime when serving for real zestiness.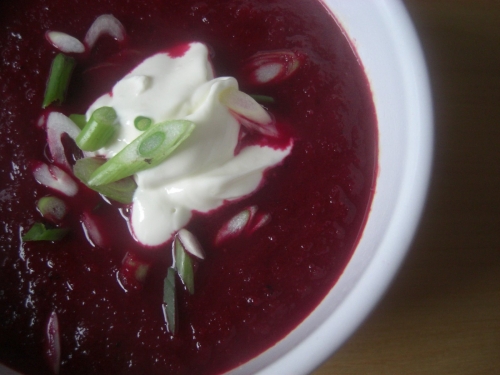 Beetroot Soup
The lime juice and vodka are a must here (a traditional addition to Russian Borscht), they cut through the sweet earthiness of the beetroot, spring onion adds some texture with a cooling dollop of yoghurt or sour cream.

If you're not a fan of beetroot, this will turn you!
Recipe
Trim the beetroots, place in a pan, cover and simmer for about 45mins or until the beets are tender.
Drain and reserve the cooking water. W
hen the beets are cool, slip off the skin and dice.
Fry the onion and carrot in a little oil for 5mins, add the garlic and chilli and fry for 2mins more.
Add the beetroot and crumbled stock cube, stir thoroughly. Now add the reserve water from the beetroot, enough to just cover the vegetables. Bring to a boil and gently simmer for 10mins. Blend the soup, be careful not to splash the soup everywhere, add more water if necessary depending on how chunky you like it and add seasoning.
When you're ready to serve, heat the soup and add the juice of the lime and the vodka. Serve with a judicious blob of yoghurt and a sprinkling of spring onions