Ingredients
Makes 16 bars
200g dates, stones removed
½ tsp dried cinnamon
450g porridge oats
200g golden syrup
200g butter
This will keep for several days in an airtight tin.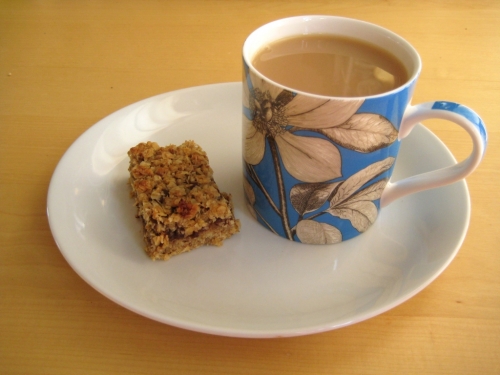 Flapjack and date bars
Full throttle flapjack - think slow release energy but more than enough Golden Syrup and butter to tide you over before the datey oaty goodness kicks in.
Recipe
Pre-heat the oven to 180°C (Gas Mark 4) and line an 18x24cm baking tin with greaseproof paper.

Pop the sticky stoned dates in a small pan and cover with 200ml water and add the cinnamon. Put the lid on the pan and bring to the boil, reducing to a simmer once boiling. Turn the heat down to very low to allow the dates to cook and become meltingly tender - the water should turn into a thick syrup and the dates begining to lose their shape.
Remove from the heat and cool. If you have a food processor, pulse the date mix until a rough paste. If you don't have a processor, roughly mash the dates to a paste using a potato masher or fork.

Melt the butter and syrup in a medium/large pan over a low heat (it needs to be big enough to fit the oats in later). Take care not to boil. Once fully melted, stir to combine and stir in the oats. Mix well with a spoon to coat all the oats in the syrup and butter mixture. Pour half of the flapjack mixture into the prepared baking tin, pressing down with a spoon (or OxNosh's favorite flapjack implement - a potato masher) to make it even and flat. Now spread the mashed dates on top of the flapjack evenly, and then spoon the remaining flapjack mixture on top in several blobs - by spooning it on you will be able to flatten the top without squishing too much of the mashed dates out - and gently flatten the top of the flapjack blobs to make an even layer.

Bake in the oven for 15-20 minutes until golden brown. Cool in the tin, and then cut into 16 slices.