Ingredients
Serves 4
50g dried mushrooms
1 litre vegetable stock (from bouillon is fine)
1 onion, finely chopped
2 cloves garlic, finely chopped
300g risotto rice (arborio or carnaroli)
1 small glass white wine
500g mixed mushrooms, larger ones sliced
couple sprigs thyme
squeeze lemon juice
1 small bunch parsley chopped
large knob of butter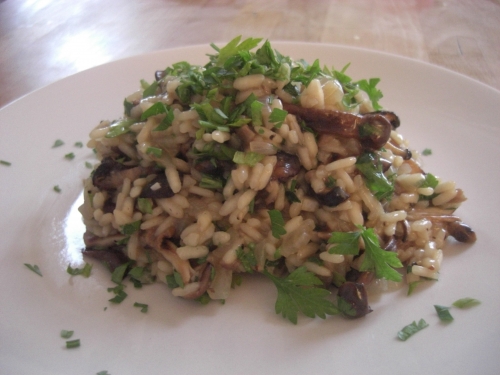 Mushroom Risotto
A really easy risotto recipe that's quick to make. Using dried mushrooms means you can cheat on making stock!
Recipe
Add the mushrooms to the hot stock and set aside for about 15mins, drain the stock into a saucepan and keep warm on a low heat.
Retrieve the dried mushrooms and chop roughly. Meanwhile, fry the onions and garlic over a medium heat until softened, then add the dried mushrooms and rice, fry for a few mins until the rice grains become translucent.
Next add the wine and turn up the heat, allow the wine to bubble away until nearly all of it has gone.
Now add a ladleful of stock, stir gently until nearly all the stock has been absorbed (but not all!), continue to do this until most of the stock has been absorbed and the rice is cooked with a little bite.
Meanwhile fry the mushrooms over a high heat in a little butter and oil, add the thyme sprigs and seasoning. When the mushrooms are cooked add a splash of lemon juice. Add the mushrooms to the risotto once the rice is cooked, add the parsley, some seasoning and a knob of butte, stir, put a lid on and leave for 5mins. Stir again and its ready to serve.