Ingredients
Serves 4
2 onions, finely chopped
350g short pasta (we used rigatoni)
400g chestnut mushrooms, sliced
4 cloves garlic, finely chopped
a few sprigs thyme
1 small tub creme fraiche (or 150ml double cream)
squeeze lemon juice
200g walnuts, chopped
parmesan and parsley to serve (optional)
Use wild mushrooms when in season.
Eat leftovers for lunch the next day.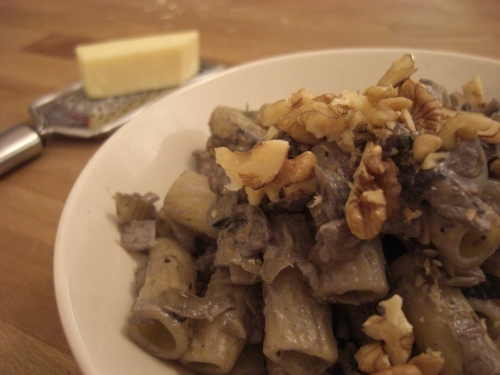 Mushroom and Walnut Pasta
Mushrooms in a creamy sauce is a well known combo, the walnuts add some nice crunch to this super quick dish.
Recipe
Begin by cooking the pasta in plenty of boiling water. Once cooked, drain the pasta, but reserve a little of the water.
Meanwhile, cook the onion in a little oil on a low heat in a large frying pan until softened, then remove from the pan. Turn up the heat and add the mushrooms along with some seasoning and the thyme. Fry for about 5mins until the mushrooms are tinged brown.
Return the onions to the pan along with the garlic, give it a stir and add the creme fraiche, the creamy white turning a grey on contact with mushrooms. Add a squeeze of lemon juice and taste to see if it needs for seasoning.
Add the pasta to the sauce and stir well to coat in the sauce, add a little cooking water if the sauce seems too thick, sprinkle over the walnuts and tuck in immediately.