Ingredients
Serves 4
4 fillet steaks , about 150g each
4 portions of mash
250g chestnut mushrooms, sliced
2 cloves garlic, finely chopped
squeeze lemon juice
1tsp grain mustard
1 small tub creme fraiche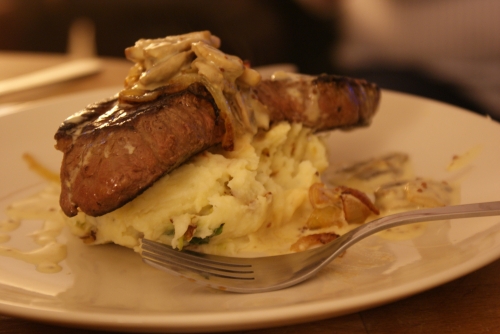 Steak and Mash with Creamy Mushroom Sauce
Rich and comforting. Perfect for colder winter's evening with a class of red wine.
Recipe
Check out this guide from The Times on how to cook the perfect steak and cook the 4 steaks as you like them.
Meanwhile, heat a frying pan and tip in the mushrooms. I always dry fry mushrooms for a while first as they tend to eat up oil. Fry until beginning to brown. Add a knob of butter along with garlic and continue to fry until the mushrooms are cooked through. Add the mustard, lemon juice and creme fraiche. Warm through and season generously with lots of black pepper and a little salt.
Serve your steak atop a mound of mash and spoon over the sauce.