Ingredients
Serves 4
6 rashers streaky bacon, finely sliced
a few sprigs of thyme or rosemary, finely chopped
300g leeks, finely sliced
500g parsnips
2 cloves garlic, finely chopped
300g arborio risotto rice
125ml white wine
1 litre vegetable or chicken stock
50g butter
100g grated parmesan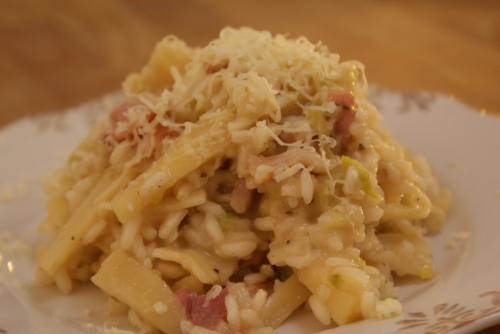 Parsnip and Leek Risotto
A comforting creamy risotto packed full of veggies.
Recipe
Heat a large saucepan and drop in the bacon along with a glug of oil and the thyme. Fry on a high heat for a few mins, add the parsnip and cook for a few mins more until tinged golden.
Turn the heat down and add the leeks and garlic cook for about 5mins until soft. Pour in the rice, stir well and cook until the grains become translucent.
Next add the wine and turn up the heat, allow the wine to bubble away until nearly all of it has gone.
Now add a ladleful of stock, stir gently until nearly all the stock has been absorbed (but not all!), continue to do this until most of the stock has been absorbed and the rice is cooked with a little bite.
At this point check the seasoning, add the butter and cheese, stir briefly, pop on a lid and leave for 5mins before serving.