Ingredients
Serves 4
500g penne
4 slices streaky bacon, sliced thinly
500g parsnip, peeled, halved and finely sliced lengthways
25g butter
1tbsp thyme or rosemary leaves
2 cloves garlic, finely chopped
2 large handfuls grated parmesan or cheddar
To Serve
1 small handful chopped parsley
Perfect for packed lunches.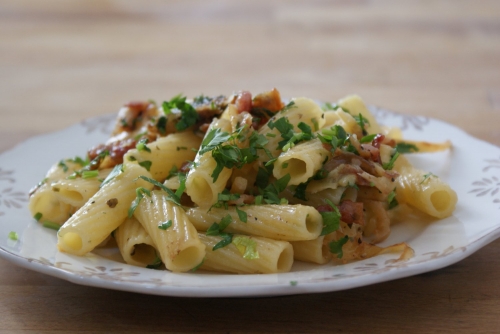 Parsnip and Bacon Penne
A great way to use parsnip. Leave out the bacon and add a handful of pine nuts if you're vegetarians
Recipe
Cook the pasta in plenty of boiling salted water until al dente and drain, reserving a little cooking water.
Meanwhile cook the bacon and herbs over a medium heat until it releases some fat, now add the parsnips and ½ the butter and fry for about 5mins until the parsnip has softened and begun to brown, add the garlic.
Add the cooked pasta to the pan along with the cheese and butter and plenty of black pepper, stir well so the heat from the pasta melts the butter and cheese into a smooth sauce.
Add a little cooking water to loosen the mixture and make it creamy and shiny.
Serve sprinkled with the parsley.