Ingredients
Serves 4
350-400g wholewheat fusilli or penne
6 rashers streaky bacon, cut into small pieces
50g butter
3 cloves garlic, finely chopped
1 head cauliflower, broken into small florets
125ml vegetable stock
1 small tub creme fraiche(about 300ml)
1 tsp english mustard
100g strong cheddar, grated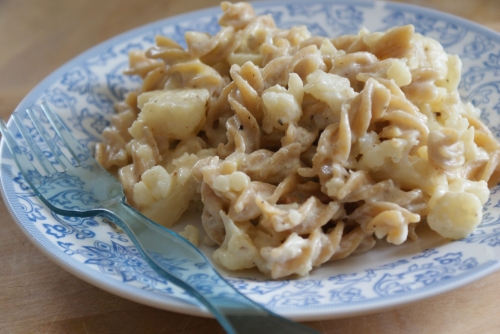 Cheesy Cauliflower Pasta
A hearty, tasty pasta dish and a great way to eat cauliflower. We use creme fraiche instead of making a cheese sauce, and perk it up with bacon and plenty of garlic.

Try baking this sprinkled with some breadcrumbs and a little extra cheese for 15mins at 200&Deg;C.
Recipe
Cook the pasta in plenty of boiling water until al dente.
Meanwhile heat a large frying pan (that has a lid) and add the bacon. Cook for a few minutes until the bacon starts to brown. Add the butter and garlic, and stir. Throw in the cauliflower and stir well to coat. Season well and pour over the stock, turn the heat down, cover to braise for about 5mins until the cauliflower is soft.

Pour the cauliflower onto the drained pasta along with the mustard, creme fraiche and cheese. Stir well and serve.