Ingredients
Serves 4
1 medium cauliflower
40g butter
40g flour
500ml milk
120g cheddar cheese, grated
For variations, try adding sundried tomatoes or bacon to the mix, or stir some wholegrain mustard into the cheese sauce before pouring over the cauliflower
This will keep well in the fridge, cooked or uncooked (by which I mean assembled and ready to go into the oven for the final stage), likewise you can freeze it at this stage.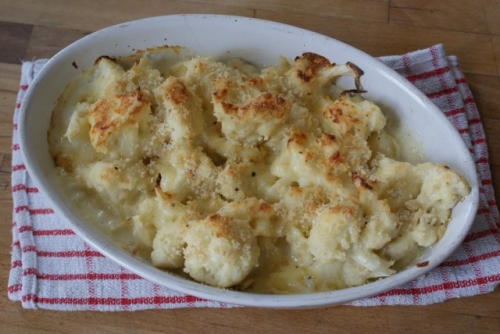 Cauliflower cheese
A classic dish, great to serve as a side dish or make more exciting and into a main course
Recipe
Pull the outer leaves away from the cauliflower, and then gently break the head into florets with your hand. They should fall apart quite naturally.

Put the cauliflower into a small pan with some boiling water, and simmer with the lid on for 4 minutes in order to part-cook the vegetables. Whilst it's simmering, in another pan add the milk, butter and flour. Heat on a low heat and constatly whisk, this doesn't have to be vigorous, just to make sure the mixture forms a nice think sauce. You will notice it's very watery at the start, but as the flour cooks into the milk it becomes thick and creamy - it's important to stir it well as it thickens. Once it's a really thick consistency, turn off the heat and add in the cheese. Stir to mix and melt.

Drain the cauliflower and put in a lasagne dish. Pour the cheesy sauce over the top, and bake in a medium oven, 180°C, for 15 minutes until bubbling and golden.