Ingredients
Serves 4
60g butter
60g flour
600ml milk, warm
350g mature cheddar
1 tsp english mustard
400g macaroni
This is seriously perfect by itself, maybe with a side salad of some salad leaves, grated carrots, toasted seeds and mustard dressing.

Try adding a couple of rashers of chopped fried bacon, or a few leeks, thinly sliced and fried slowly or some roasted tomatoes or 250g sliced and fried chestnut mushrooms...

How about using some stilton or gorgonzola? Or mozarella on the top...?

Rachel always serves this with a roast dinner - she promises if you try it you'll be converted!
Save the leftovers for lunch the next day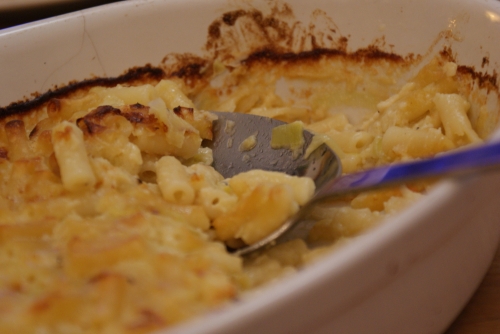 Macaroni Cheese
What could be better, like a hug in a bowl. The key is to use more cheese than you feel comfortable using, and there needs to be a lot of thick cheesy sauce to macaroni. If you're going to do it, you need to do it properly we say!
Recipe
Cook the macaroni in plenty of boiling salted water until al dente - about 8-10 minutes.
Meanwhile, melt the butter in a pan, whisk in the flour and cook for a few minutes more until nutty in colour. Take off the heat and whisk the milk in the slowly, little by little, to avoid lumps.
Return to the heat and cook slowly until the sauce thickens, (it will coat the back of a spoon)until it just starts to bubble, stiring constantly.
Take off the heat, season well and add the mustard and cheese, wait a few minutes for the cheese to melt, stir well and then mix with the macaroni.
Pour into an oven proof dish, and bake at 200°C for about 30mins or until bubbling and golden.

You can make the sauce, if you're so inclined fairly successfully in the microwave. First, heat the milk for 1min 30s on high. Then, cook the butter for 30s on high until melted, whisk in the flour and cook for a further 1min. Whisk the milk in slowly and cook on medium for 1min 30s, remove and whisk, repeat this until the sauce has thickened. Proceed as above from the cheese-adding step.