For Perfect white sauce you will need...
For 300ml white sauce (enough to make a pasta bake, fish pie for four):
300ml milk
20g butter - a knob
20g plain flour - If you don't have scales, this is a good two tablespoons
(optional) 1 bay leaf
Serves 4
Here's how...
A white sauce is so easy, and yet tastes so great. With so many variations on this plain base, it's worth getting it right so you can use the recipe again and again.
To make washing up easy, use a non-stick saucepan if you have one - but only if you have a
non-stick whisk
, otherwise the non stick will be a little worse for wear.
There are two methods for making a white sauce - personally we're a big fan of the all in one method, but both methods are detailed here.
This sauce makes a great base for other sauces, and can be used in a variety of dishes including lasagne, fish pie, macaroni cheese, mousakka.
For the all in one method

For this to work, everything needs to be cold or at room temperature, no hot milk or else disaster strikes.

Pour all the ingredients (except bay leaf) into a pan and heat on a low heat, whisking gently with a balloon whisk. This ensures that the flour is constantly and evenly distributed and not forming lumps. After about five minutes of heating and whisking, the sauce will suddenly become thicker - keep going until it reaches a gentle simmer, simmer for a couple of minutes and then remove from the heat. The sauce should be thick and smooth at this point.
You're ready to use it.

The traditional method
Melt the butter in a pan, and add the flour. Stir with a wooden spoon, cooking on a medium heat. This will form a paste, called a roux. Heat the roux for a minute or so.

Slowly add a good splash of the milk - stir constantly with the spoon, ensuring that all the milk is mixed in and the paste smooth. Repeat with more milk until it's all used up. Heat gently to a simmer, simmer for 2 minutes until thick.

To store
To store the white sauce, pour into freezer bags or boxes, seal well and allow to cool before putting them in the freezer. Alternately, make a day before you need it and keep in the fridge.

Cheese Sauce
Grate 50g-100g strong cheddar, and add to the sauce once you've made it as above, allow to sit for a few mins until the cheese melts. Try using gruyere or parmesan and adding a little english musterd for a kick. This sauce is perfect for macaroni cheese or a pasta bake.

Parsley Sauce

Chop a good handful of parsley, and stir into the finished sauce. This is wonderful with a cooked ham or fish.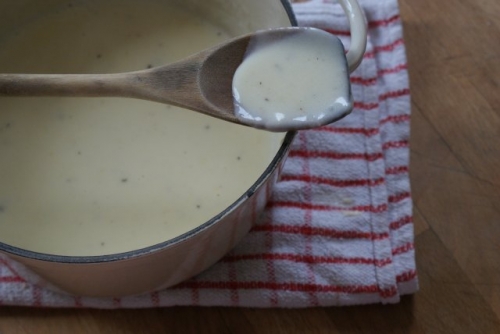 Why not try...
Keep Searching...
| | |
| --- | --- |
| | Try a vegetable box scheme if you want the freshest organic vegetables and fruit, delivered direct from farm to doorstep. |