Ingredients
Serves 4
4 good-quality sausages
1 tbsp olive oil
4 slices streaky bacon
400g linguine
2 free-range or organic eggs and 1 yolk
75ml double cream
100g freshly grated Parmesan or strong cheddar
zest of 1 lemon and a squeeze of juice
small handful chopped flat leaf parsley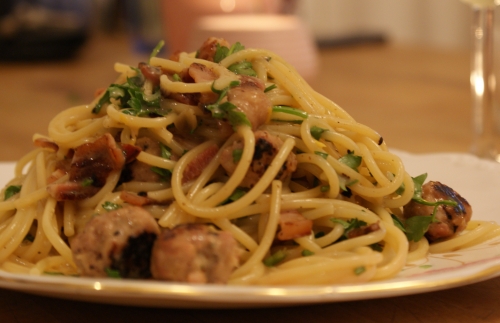 Sausage Carbonara
Delicious sausage and crispy bacon in a rich creamy sauce, perfect for an indulgent dinner!
Recipe
Cook the pasta in plenty of boiling salted water until al dente.
We like to slice open the sausages, remove the insides and roll into small balls as it looks nice, otherwise slice thickly instead.
Heat a large frying pan with the olive oil and add the bacon, fry for few minutes to release some fat and then drop in the sausage ball, fry until golden all over, shaking the pan gently to stop them sticking.
T0 prepare the sauce, whisk the eggs with the cream, lemon juice and zest.
Season with plenty of salt and pepper and stir in the cheese.
Drain the pasta, reserving a little cooking water and return to the pan.
The key to a good carbonara is to allow the hot pasta to cook the sauce gently. Tip the cream mixture into the pan, make sure its off the heat and keep stirring until you end up with smooth and silky sauce that clings to the pasta, add a little cooking water if necessary.
Now add the sausage and bacon.
Top with the parsley and tuck in!