Ingredients
Makes 12 cupcakes *in muffin cases*
For the cakes
2 eggs
200g caster sugar
100ml vegetable oil (or corn oil)
1 tsp vanilla extract (optional)
100ml sour cream (or natural yogurt)
1 banana, mashed using a fork
1 x 225g tin pineapple chunks, drained, mashed with a fork
200g plain flour
½ tsp baking powder
¼ tsp bicarbonate of soda
1 tsp cinnamon
60g chopped pecans

For the icing
One quantity ofSimple Cream Cheese Icing

Embelishments - silver balls/icing flowers/icing sugar - whatever you fancy!
Store the un-iced cakes in the freezer in a sealed bag or box for up to a month. Defrost overnight and ice and serve as above.

Once iced, the cakes will keep for a few days but make sure they're in a sealed box or tin, and in a cool place.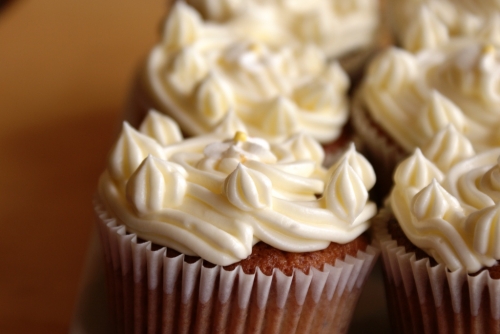 Hummingbird cupcakes (pineapple, banana and pecan)
A southern American cake recipe, with a texture similar to carrot cake. Scented with cinanmon, and sweet as they come, these cupakes have undeniable novelty value - serve these up and get your friends to guess the tropical ingredients.
Recipe
Pre-heat the oven to 170°C, and line a 12-hole muffin tin with muffin cases.

Whisk the eggs and sugar together until light and fluffy - this will take a couple of minutes.

Add the oil, sour cream (or yogurt) and vanilla, and whisk to combine. Stir in the mashed banana and pineapple. Sift the flour, bicarbonate of soda, baking powder and cinnamon into the mixture, and pour in the chopped pecans. Mix to combine.

Use a tablespoon to fill the muffin cases to ¾ full - this will make muffins with tops that rise proud of the cases. Bake for 25 minutes. When done, the cakes will have risen, and have soft brown tops. A cake tester will come out clean. Remove the muffins carefully onto a wire rack or board, and cool.

Before icing, ensure your cakes are completely cool - this will prevent the icing from sliding off.

Spread or pipe the Simple Cream Cheese Icing onto your cakes, and decorate with whatever you have (pecans/silver balls/icing sugar).