Ingredients
125g butter, melted
150g caster sugar
2 eggs
175g plain flour
1 tsp bicarbonate of soda
2 tsp baking powder
Pinch of salt
125ml milk
3 ripe bananas, mashed with a fork
1 tsp vanilla extract
Try adding 100g chopped walnuts.
Try baking in cupcake cases for a portable treat. (Perfect for lunch boxes)
This cake actually improves with age as the flavours develop and it becomes more dense and moist. If it lasts that long, this will keep for up to 5 days stored in an airtight container.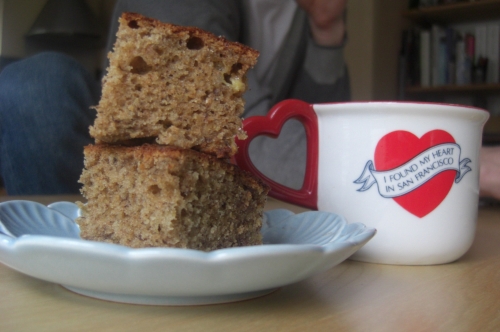 Banana Bread
The key with banana bread is that the bananas need to be really really ripe, almost completely black and ready for the bin, as only these will make the moistest bread. If you've only one banana that is ripe enough, try freezing them. We've tried this in the past and it actually works, but be warned - they look disgusting when they defrost, but make good cake.
Recipe
Whisk the sugar and butter, then add the eggs one a time, whisking well between each egg. Finally, whisk in the mashed bananas. Stir in the dry ingredients. Transfer to a greased and lined loaf tin, bake at 180°C for about an hour or until a skewer comes out clean.