Ingredients
Serves 1
Ingredients
3 clove of garlic, finely minced
6 anchovy fillets, roughly chopped
4tbsp pine nuts
4tbsp tomato puree
3 tomatoes, chopped (optional)
250ml red wine
4tbsp breadcrumbs
400g linguine
cheese to serve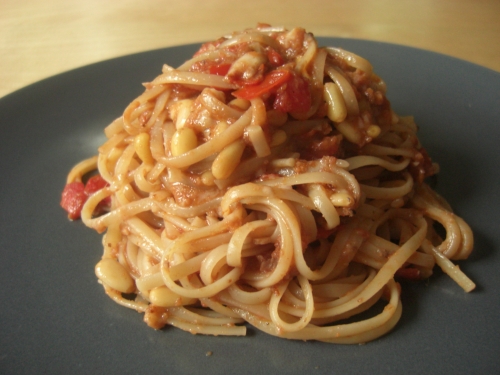 Linguine with Anchovy and Tomato Sauce
It might 070-462sound like a strange combination of ingredients, but try it, its delicious!
Recipe
Cook the070-462 pasta in plenty of salted boiling water. Meanwhile, cook the anchovy and garlic slowly in some olive oil. As the anchovy dissolves, add the pine nuts, cook until they start to brown. Add the wine and tomato and cook for a 5 more mins until the alcohol had bubbled off. Add the cooked pasta, stir to coat and sprinkle over the breadcrumbs and cheese.

Note - rachel did you add real tomatoes here? Looks like it in pic, and I am going to when I test in now, but just to check!