Ingredients
Serves 4
350g penne
200g purple sprouting broccoli, cut into small florets, and the stems sliced finely
6 anchovy fillets (from a tin)
4 garlic cloves, chopped finely
1 red chilli, finely chopped
75ml olive oil (use some of the anchovy oil from the tin)
4 tbps grated parmesan to serve
It goes without saying that you can substitute regular broccoli if purple sprouting is out of season.
Save the leftovers for lunch the next day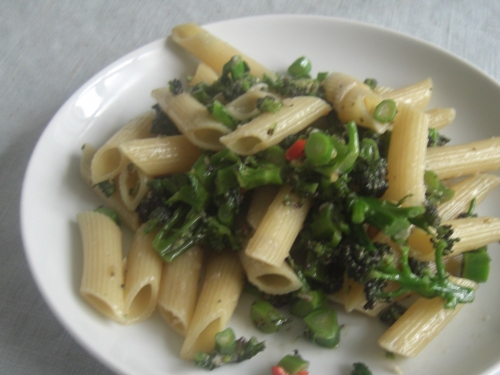 Penne with purple sprouting broccoli, anchovy and chilli
The key with this dish is not overcook the broccoli, it needs to be soft but not mushy, retaining its bright green colour. Don't be put off by the anchovies, they melt into the oil creating a wonderful salty sauce to go with the chilli and garlic.
Recipe
Cook the pasta in plenty of salted boiling water until al dente.
Heat the oil in a frying pan and cook the garlic and anchovies until soft, add the broccoli and fry for a few mins. Now add a splash of water, cover with the pan with a lid and allow to steam until the broccoli is cooked.
Add the cooked pasta, parmesan and seasoning to the pan, stir to coat the pasta and enjoy.