Ingredients
Serves 4
1kg braising beef, (such as shin) cut into 2cm x 2cm chunks
2 tbsp plain flour
1 tbsp sunflower oil
25g butter
1 onion, finely chopped
1 tbsp smoked paprika
1 jar roasted red peppers, drained (or 4 peppers roasted and skinned) and sliced into thin strips
200ml stock (fresh or from a cube)
1 small tub (140ml) soured cream
Chopped flat leaf parsley to serve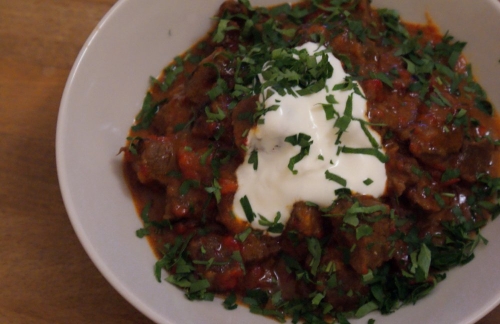 Beef Goulash
A rich stew of tender beef, and a perfect recipe for using cheaper cuts of braising beef, such as shin. Eat with tagliatelle or mashed potato.
Recipe
Season the meat and sprinkle over the flour to coat well. Heat the sunflower oil in a large pan or casserole. When hot, fry the beef in batches until sealed and beginning to brown - this will add flavour and colour to the goulash. Remove from the pan and set aside.

Add the butter to the pan, and place on a medium heat. Once melted, add the onion and fry for a few mins until softened. Add the beef back to the pan and sprinkle over the paprika, stir well so that the beef is well coated, add the peppers.

Pour in the stock, bring to the boil and simmer on a low heat for at least an hour until the beef is tender and the sauce has thickened. Before serving, stir in half the soured cream, reserving the rest to dollop on top. Serve in bowls with a sprinkling of fresh parsley.