Ingredients
Serves 4
2tbsp olive oil
1 onion, finely chopped
3 garlic cloves, finely chopped
1 tin chopped tomatoes
2 tbsp capers
6 anchovies , drained and chopped
120g pitted green olives , sliced
large pinch dried chilli flakes
400g spaghetti
1 small bunch flat-leaf parsley , roughly chopped
Leave out the anchovies to make this vegetarian.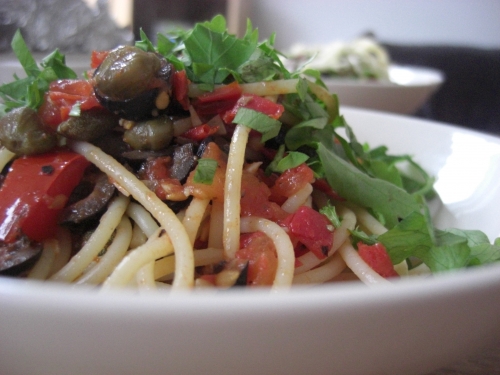 Spaghetti Puttanesca
A really easy pasta dish, full of flavour.
Recipe
Cook the spaghetti in plenty of salted boiling water.
Meanwhile, heat the olive oil and add the anchovies, wait until they start to melt a little and add the onion. Continue to fry until soft.
Add the garlic and chopped tomatoes, turn the heat and sizzle for about 15mins until reduced and thick.
stir in the capers and olives and season to taste.
Add the spaghetti and half the parsley, mix well and serve with the rest of the parsley sprinkled on top.