Ingredients
Serves 4
½ small red onion, diced
juice ½ lemon
1 small clove garlic, finely chopped
olive oil
250g cherry tomatoes, roasted
1 block haloumi, sliced
1 tin chickpeas, drained
small bunch flat leaf parsley, chopped
100g rocket
You could make up the chickpea part in advance and just add rocket and tomatoes to serve with the haloumi, the chickpea marinade will dress the salad.

Click here for a simple roasted cherry tomato recipe.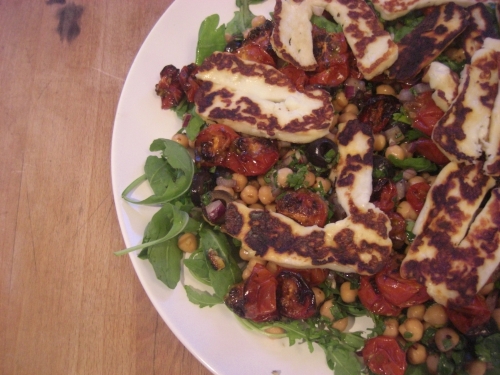 Chickpea and Haloumi Salad
One of my favourite salads ever.
Recipe
Combine the chickpeas, lemon juice, garlic, parsley and red onion with 1 tbsp olive oil and some seasoning, stir 642-874 exam well and set aside to marinade.
Spread 2014 latest 070-414 dumps
070-414 exam the rocket over a large plate, top with the chickpeas and sprinkle Microsoft 070-634 dumps
070-634 dumps over the tomatoes. Heat a frying pan or griddle buylvok.com pan and fry the haloumi on both sides for a few minutes, lay over the top of the salad and eat immediately.