Ingredients
Serves 4
250g cherry tomatoes, halved
150g puy lentils
12 scallops
½ lemon
2 garlic cloves, finely chopped
1 tsp thyme (dried or fresh)
1 pinch brown sugar
100g rocket
The scallops could easily be substitued for 250g haloumi for a vegetarian fest.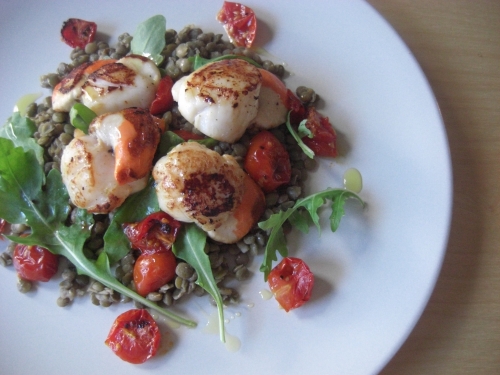 Scallops with Lentils and Roasted Tomato
Scallops and sweet roasted cheery tomatoes makes an extra special dinner
Recipe
Put the cherry tomatoes in a roasting tray with enough space to be slightly spread out. Add seasoning, a sprinkle of brown sugar, ½ the garlic, thyme and a drizzle of olive oil. Mix well and place in an oven at 150°C for 1hour.

Meanwhile cover the lentils in water, bring to the boil and boil rapidly for 10mins, now simmer for 35mins until soft. Drain and dress with plenty of seasoning, the garlic, olive oil and spritz of lemon juice.

Cook the scallops just before serving. Get a pan really hot, season and drizzle the scallops with a little oil and sear on either side for a few mins.

To assemble, add a large spoon of lentils to the plate, a handful of roasted tomatoes and some rocket leaves, now place four scallops on top drizzle with oil and feel proud of yourself.