Ingredients
Serves 4
400g penne or any other short pasta
250g chestnut mushrooms, sliced
250g tomatoes, chopped
250g

4 cloves garlic, finely chopped
2 tbsp pine nuts
4 tbsp pesto, preferably homemade
4 tbsp yoghurt, any will do
Parmesan and fresh basil to serve
Olive or vegetable oil
Try to use the best tomatoes you can, preferably local, but certainly ripe and juicy red wherever they have come from.
Save the leftovers for lunch the next day.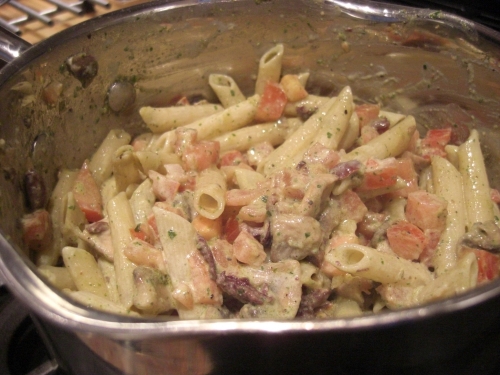 Penne with Creamy Pesto and Fresh Tomato
A lovely fresh summer dish, a dollop of yoghurt adds a little creaminess without being too heavy.
Recipe
Cook the pasta in plenty of salted boiling water. Meanwhile fry the mushrooms in a little oil, after a few mins add the garlic and pine nuts, continue cooking until the mushrooms are cooked and the pine nuts are toasty brown. Add to the drained pasta along with the rest of the ingredients. Stir well and season, leave covered for a minute or two to allow everything to warm up and the flavours to mingle. Serve with grated parmesan and fresh basil.