Ingredients
Serves 4 as a starter
2 onions, sliced
3 peppers, sliced into long strips
2 courgettes, halved and sliced diagonally
3 cloves garlic, finely chopped
½ red chilli, finely chopped
1 tbsp balsamic vinegar
1 tbsp capers
2 tbsp olives, sliced
200g cherry tomatoes, halved

To serve:
basil and toasted pine nuts
This positively improves with age so make lots!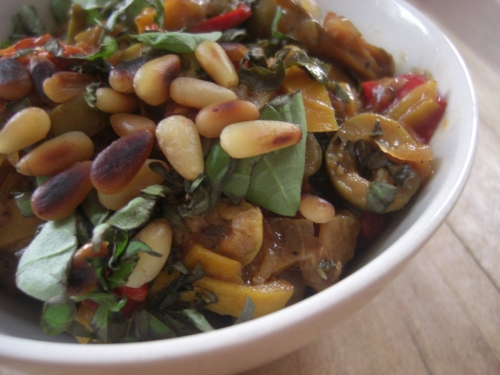 Courgette Caponata
Super fresh summer vegetable cooked into a delicious stew with capers and olives. Serve slathered onto bread.
Recipe
Cook the onions, courgette and peppers in a liberal slug of olive oil for 10mins until softened and catching in places. Add the garlic and chilli and cook for a few more minutes. Now add the rest of the ingredients, and cook slowly for 20mins more until the tomatoes have broken down and you have a thick stew. Season and serve at room temperature with the basil and pine nuts sprinkled on top.