Ingredients
Serves 4
300g couscous
450ml hot vegetable stock
1 can chickpeas, drained
400g cherry tomatoes, halved
½ cucumber, cut in half, the middle scooped out and sliced
200g feta, crumbled
2 medium carrots, grated
1 small bunch parsley(and some mint too if you have it), chopped
juice 1 lemon
90ml olive oil
1 red onion, diced
1 small clove garlic, finely chopped
1 small handful toasted sunflower seeds or pine nuts
Feel free to swap in other ingredients you have such as olives or peppers.

This goes well with hummus, tzatiki, fried haloumi and toasted pitta.
This will keep in an airtight container for up to a week.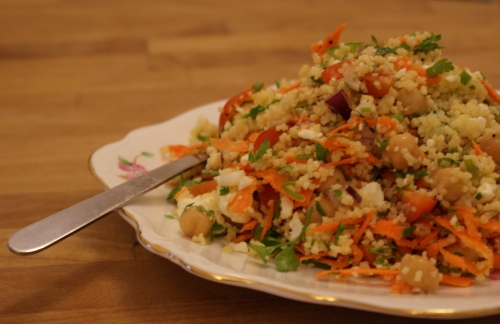 Feta and Chickpea Couscous Salad
A perfect prepare ahead salad for lunchboxes.
Recipe
This is really just an assembly job...
wiegh the couscous out in a large bowl, pour over the hot stock, cover a with a large plate and leave to steep for about 5mins. Once all the stock has been absorbed, fluff up using a fork. Pile all the ingredients into the bowl and mix thoroughly. Squeeze the lemon juice over and pour in the olive. Mix really well and taste, it'll probably need some salt and pepper.