Ingredients
Serves 2
100g almonds
1 small bunch basil
1 clove garlic
50ml olive oil
100g grated parmesan
200g tomatoes, cut into small pieces
200g linguine or spaghetti
Save the leftovers and eat for lunch the next day. Make up twice the amount of pesto and keep in a jar for up to a week.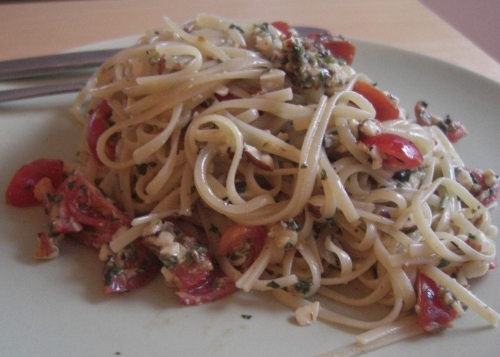 Spaghetti with Tomato and Almond Pesto
This is a delicous variation on pesto using almonds instead of pine nuts and squishing the mixture into lovely ripe tomatoes to make a fresh and tasty sauce. Make sure you use good quality tomatoes, definitely not cold from the fridge.
Recipe
Blitz the almonds in a food processor to a rough crumble (not too fine) and put them in a bowl with the tomatoes. Blend the basil and the garlic, add to the bowl along with the cheese, pour in the oil, season and stir. Meanwhile, cook the pasta in plenty of boiling water. Drain, return to the pan, add the pesto and stir to coat. Cover with a lid and leave for a few mins to allow everything to warm up.