Ingredients
Serves 4
350g spaghetti
4 sausages
2 tbsp olive oil
300 tomatoes, roughly chopped
2 cloves garlic, roughly chopped
handful chopped thyme or oregano
6-8 tbsp creme fraiche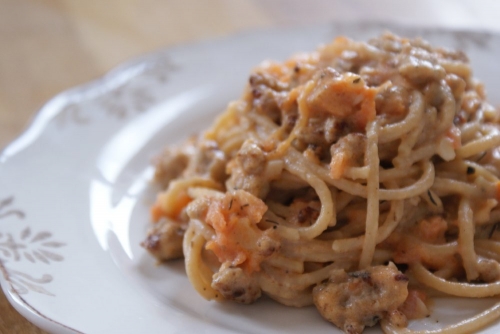 Spaghetti with Sausage and Tomato
A great way to make the most of summer's tomatoes. Leave out the creme fraiche to make it healthier or leave out the sausage to make it vegetarian.
Recipe
Cook the pasta in plenty of boiling salted water.

Add the garlic, 1tbsp olive oil and plenty of salt and pepper to the tomatoes, stir well and set aside.

Meanwhile, heat a frying pan. Cut a slit into the sausages, remove the skin and break up the filling into small pieces. Add these to the pan with 1tbsp olive oil and thyme. Fry until the sausage is golden, add the tomatoes, cooked pasta and creme fraiche and stir well before serving.