Ingredients
Serves 4
1 onion, chopped
2 cloves garlic, chopped
1 chilli, finely chopped
3 cans chickpeas, drained
2 tsp ground coriander
zest of 1 lemon
1 small bunch chopped coriander
2 tbsp tahini
flour
Buy your chickpeas from an indian shop, they're much bigger and softer than the supermarket ones.
the chickpea cakes can be frozen in advance and then fried once defrosted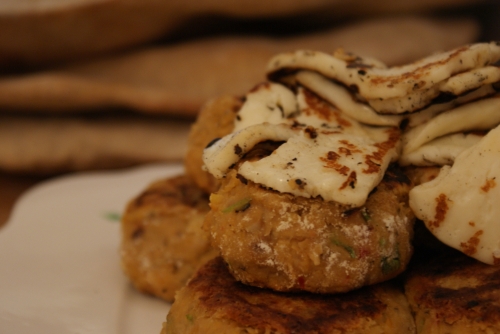 Spicy Chickpea Cakes
These little cakes are a delicious alternative to falafel, especially with some haloumi on top. Serve with pitta, yoghurt, salad and a simple tomato salad.
Recipe
Fry the onions in a little oil for a few mins, then add the garlic and chilli and fry for a few mins more. Add most of the chickpeas, reserving a couple of tbsp. Stir well and season.

Blend until smooth, stir in the chopped coriander, lemon zest and tahini.

You want the mixture to be quite stiff, so add a dusting of flour if its too sticky. Pour some into a shallow bowl at the same time. Take large tablespoons and shape into balls, before dipping into the flour to coat, place onto a plate. Repeat with the rest of the mixture and chill for 30mins.

Fry the cakes in a little oil for 3-4 mins on each side until golden brown and warmed through.