Ingredients
Makes 1 large cake
2 eggs
100g dark brown sugar
150g carrots, carrots
75ml sunflower oil (or other flavourless oil)
100g self raising flour
1tsp ground cinnamon
½tsp ground nutmeg
50g dessicated coconut
50g raisins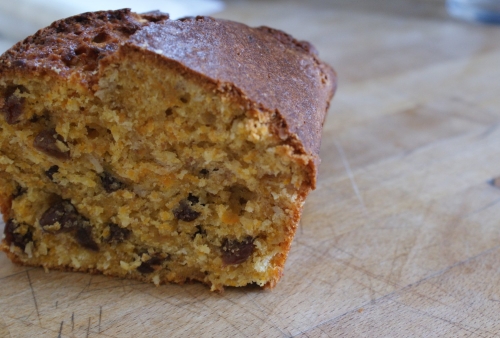 Carrot and Coconut Cake
Bought carrot cake tends to emerge with a vast quantity of very sticky icing, but this superfluity tends to mask the flavours of the cake. Leave the cake overnight from the day you make it, and the next day it presents itself as stickier and tastier - with no need for icing!



By Rowena
Recipe
Preheat the oven to 190°C and grease a loaf tin. Line the bottom with greaseproof paper.

Whisk together the eggs and sugar until the mixture is thick and creamy. Add the rest of the ingredients, stirring until even in consistency.

Pour into the tin and level the surface of the mixture with a spoon. Bake for for about 20-25 minutes, until the surface is golden brown and firm to the touch.