Ingredients
Serves 4
8-12 sausages depending on how hungry you are
2 tbs vegetable oil
2 eggs
150g plain flour
150ml milk
Salt and pepper
Optional - 1tbs wholegrain mustard
Optional - chopped herbs, try sage, rosemary or thyme
Just use this base recipe to scale up or down as you please. There are so many variations available as it's a relatively plain recipe.

Variations:

Add 2 tsp wholegrain mustard to the batter and stir through before pouring into the roasting tin

Add an apple cut into thick slices into the tin with the sausages after adding the batter, arrange prettily

Add a chopped red onion into the tin with the sausages right at the beginning

For a really indulgent meal, wrap a piece of streaky bacon or pancetta around each sausage loosely when adding them to the tin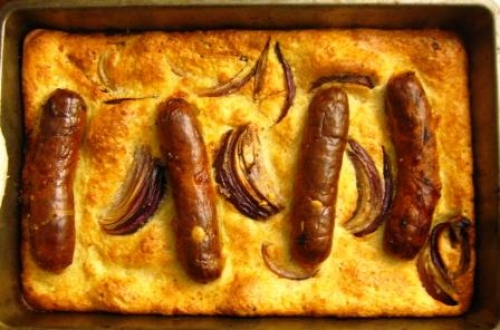 Toad in the hole
A great British classic, can be made with any kind of sausages but best with those with a good herby flavour to go with the relatively plain batter.

It's a really easy to make, and although I have put measurements below, this is more for shopping, all will become clear in the method...
Recipe
Put the sausages in a roasting tin (about 20x30cm) with the oil, and put in a hot oven (Gas 7, 220°C) for 5 minutes until the sausages start to brown.

Whist the sausages are browning, add the flour to a bowl and make a well in the centre. Break the eggs into a bowl, measure in the milk and mix lightly to combine. Pour the eggs and milk into the flour little by little, mixing well between each addition (this stops it from being lumpy)
with a whisk or spoon. At this point, you can add any herbs you want, plus seasoning.

Take the sausages out of the oven and pour the batter into the tin. Carefully move the sausages into the arrangement you'd like them. Put the tin back into the oven and cook at the same temperature for 30 minutes, until the batter is risen and golden.

Serve with mashed potato, and seasonal vegetables, plus this easy tomato sauce

Tomato sauce
Add a sliced red onion to a pan with a splash of oil, and heat gently for 2-3 minutes, stirring every now and then. Add a tbs sugar (any, I used Muscovado for its colour and deep flavour) and continue to stir and heat until the sugar is bubbling and onions taking in a little colour. Add a splash of red wine (or madeira, or white wine, or balsamic vinegar) and allow to bubble for a couple of minutes. Add some sundried tomotoes, or cherry tomatoes, a tablespoon of tomato puree and half a mug of water and simmer until thickened.