Ingredients
Serves 4
1 pack 6 sausages, sliced
2 onions, finely chopped
3 cloves garlic, chopped
A couple of sprigs of rosemary
a strip orange zest
½ glass red wine
500g puy lentils
2 cans chopped tomatoes
Buy your suasages from one of the butchers in the covered market, a flavoured sausage will add depth to the stew.
This will keep well in the fridge, in fact the flavours will develop the next day. Also freezes well.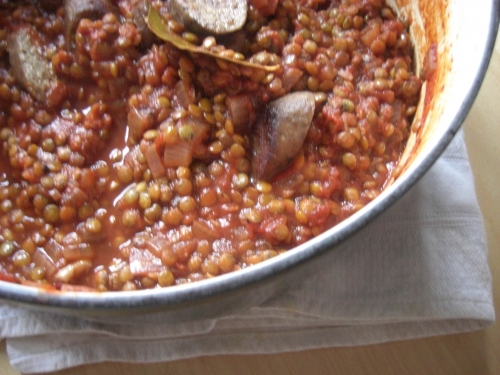 Sausage and Lentil Stew
This is a rich, intense stew. Lovely little puy lentils cooked in a red wine and tomato sauce with sausages. The lentils can easily be substituted for other beans, cannelini, butter, flagelot etc.The beauty is, you use cheap as chips ingredients to bulk out the more expensive sausages.

Make up lots of this as it will improve the next day as well as freezing well should there be any left over. Have it with mashed potato, crusty bread, pasta, rice, couscous.
Recipe
Heat a little oil in a large heavy based saucepan, fry the sausages until they begin to brown, they don't need to be cooked through, just browned. Remove the sausages, and fry the onions in the same saucepan until softened, add the garlic, rosemary and orange zest and fry for a few mins more. Add the wine, turn the heat down and allow it to bubble until half has evaporated off. Add the lentils, and sausages back to the pan, stir thoroughly and add the tomatoes. bring to the boil and simmer gently for 20-30mins until the lentils are cooked through, top up with water or stock as necessary.