Ingredients
Serves 4 as a side salad
300g carrots, grated
3-4tbsp mustard dressing
See this recipe from the Guardian for a Japanese version.
Make a large bowl of this at the beginning of the week and serve it with every meal, a really easy way to get some veggies!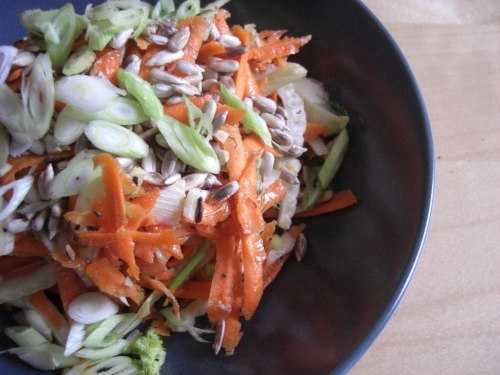 The Best Carrot Salad
This is possibly the simplest, easiest salad to make, but is such a delight, serve it with simple dressed leaves alongside anything. Goes particularly well in a sandwich with hummus.
Recipe
Add the dressing to the carrots and mix thoroughly There's your basic salad. You could add either spring onions or some finely chopped red onion. Toasted seeds are also a must, sunflower or pumpkin. A little bit of chilli is nice too.