Ingredients
Makes 15 to 20 squares of fudge, easily scaled up recipe
150ml double cream
150g caster sugar
1 tsp liquid glucose
50g chocolate, melted
1 tsp cocoa powder
Optional - 2 balls of stem ginger, finely chopped
Keep the fudge in an air-tight container for up to a month, if it lasts that long without being snaffled.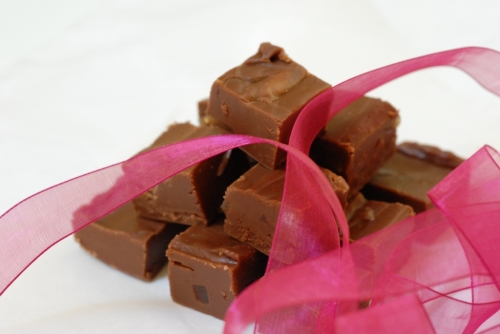 Chocolate fudge
A seriously rich little treat to have at the end of dinner, or to give as gifts to friends wrapped up in pretty tissue paper tied with a bright bow for a decorative flourish.

A sugar thermometer is almost essential for this recipe, as it's important to get the mixture to the correct temperature in order for it to set and have the right texture. It's possible to use water to test for sugar temperatures, but without experience this method is difficult - if you're eager to give it a go, see the descriptions here. Don't let this put you off, as it's otherwise a really easy recipe.



Always take extra care when handling hot sugar.
Recipe
Line a smnall tin or freezer box measuring approx 15cm x 8 cm with baking paper.

Gently heat the cream, caster sugar and liquid glucose together in a pan without stiring.

Once the sugar has melted and the mixture looks combined, heat on a higher heat until the mixture reaches the "Soft Ball" stage (118°C on your sugar thermometer). At this point, immediately remove the pan from the heat, and stir in the melted chocolate and cocoa powder quickly but carefully.

Pour the hot fudge into the lined box/tin, smooth the top over with the back of a metal spoon and then leave to cool (at least overnight)

Once cool and hard, turn the block of fudge out onto a chopping board, and cut into 2cm x 2cm squares.