Ingredients
Makes 12-16 brownies
500g white chocolate
75g butter
175g sugar
3 eggs
175g selfraising flour
1tsp salt
2tsp vanilla
175g chopped hazelnuts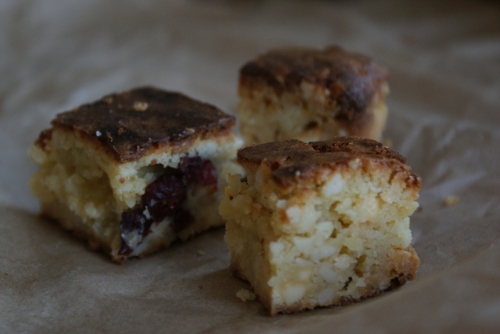 White Chocolate Brownies
Sweet and fudgy white chocolate baked with hazelnuts.
Recipe
Melt 100g white chocolate with the butter. Meanwhile, whisk the sugar and eggs until pale
Beat in the butter/chocolate mixture and vanilla and fold in the flour.

Chop the rest of the chocolate, add this to the mixture along with the hazelnuts and stir well, you'll end up with a fairly stiff mixture.

Pour into a 20cm tin and bake at 180°C for 30mins until firm on top, but still a little squidgy, the brownie will carry on cooking whilst it cools.