Ingredients
Makes 12 - 18
120g dark chocolate
4 tbsp double cream
75 g cocoa powder
110 g icing sugar
100g white chocolate (optional)
Try adding 2tsp of rum, kahlua or Baileys or Cointreau to the mixture.
Keep chilled, preferably in the freezer, where they will keep for a couple of weeks.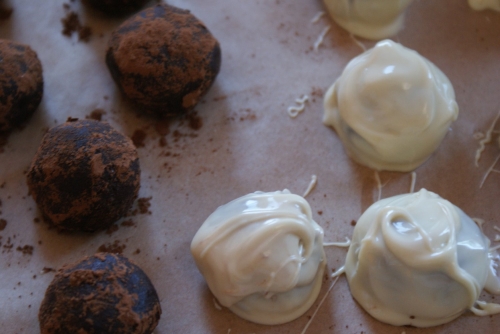 Chocolate Truffles
Rich and fudgy chocolate bites, perfect after dinner with coffee.

Make a big batch and give as gifts, you'll be very popular.

We like to coat ours with white chocolate, the sweetness of the white chocolate goes well with the intense chocolate centre. But alternately dust with cocoa powder.
Recipe
Heat the cream in a small saucepan until almost bubbling. Remove from the heat.

Break (or chop) the chocolate into small pieces and add to pan with the cream. Heat gently until the chocolate has melted. Whisk thoroughly

Mix the icing sugar and 50 g of the cocoa powder together in a bowl and beat into the chocolate mixture.

Allow the mixture to cool thoroughly. (Tip - pop into the freezer if in a hurry, and leave for 20 minutes until set).

Using about 1 tsp of the mixture, shape into small balls and toss in the remaining cocoa powder and place onto a chopping board covered with baking paper to set. Tip - if you're making a big batch, put 2 - 3 tbs cocoa powder into a freezer bag, and gently pop the truffles into the bag. Gently shake around to evenly coat the truffles in the cocoa powder. For a special finish, try adding a touch of this

White Chocolate version
Prepare as above but instead of tossing in cocoa powder, melt 100g white chocolate and carefully turn the ball in this mixture, before placing on the baking paper and leaving to set completely.