Ingredients
Serves 4 as a starter
1 portion of hummus
1 onion, finely chopped
2tbsp olive oil
½tsp cinnamon
150g lamb mince
To serve:
Paprika
1 small handful parsley, chopped
Serve with plenty of bread for dipping www.timecritics.co.uk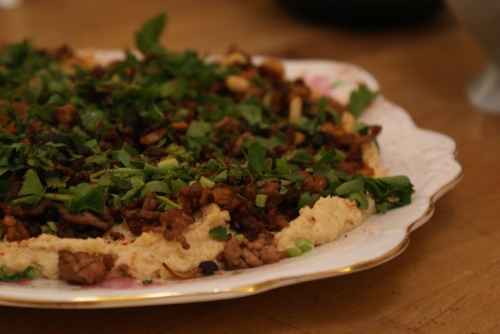 Hummus with Crispy Lamb and Pine Nuts
Lamb and hummus go together so well. This is delicious and will be gobbled up in no time.
Recipe
Spread the hummus onto a large plate. Meanwhile cook the onion in the olive oil over a low heat for 10mins until golden and crispy, add the cinnamon and transfer to a bowl.
Turn the heat up high and add the lamb, break the mince up into small pieces as you go and fry until golden and crispy, add the onions and pine nuts and fry for a few mintues more until the pine nuts begin to toast.
Tumble onto your plate and sprinkle with the parsley and a little paprika.