Ingredients
Serves 4
Olive oil
1 large onion,
1-2 carrots
4 cloves garlic
1tsp ground cumin
1tsp Paprika
1tsp Cumin seeds(optional)
Chilli (1 teaspsoon dried or 1 fresh)
2 cans pulses, beans ( such as aduki beans, mung beans, green lentils and chickpeas but any will do) drained and rinsed
1 tsp soy sauce
1 tsp dijon mustard
1 lemon
1 cup oats
If the mixture a little sloppy, just add more oats
Chilling the burgers for an hour or so in the Fridge makes them hold together better, but this is all about getting messy, so I don't usually bother.
The mixture also freezes exceptionally well so you can make a big batch and freeze any you don't use for another time.
Leftover burgers also make very good sandwiches for lunch the next day…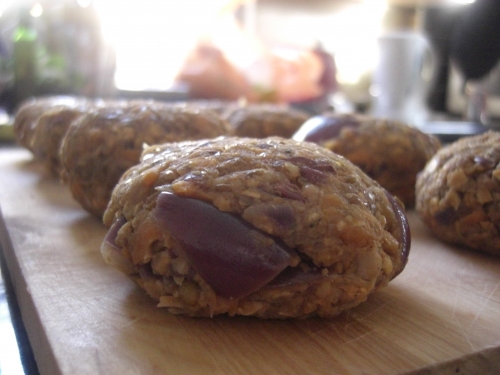 The Ultimate Bean Burgers
There is nothing better when you are feeling tired/cold/hungover/starving/greedy/naughty then a great big burger with all the trimmings, often vegetarians think that this is not an option for them. Bean burgers are the perfect burger for vegetarians and wildly popular among meat-eaters as well, they are filling, tasty and infinitely more nutritious than a meat version. The variations are endless, which means you'll never tire of this tasty recipe.
Recipe
Heat a pan with the olive oil. Meanwhile, finely chop the onion and garlic and tip into the pan. Cook on a low heat until the onions are soft.
Grate the carrot and add to the onion, stir and leave to cook on the same heat for a few minutes.
Add the cumin, paprika and cumin seeds(if using) and leave on the heat for a few more minutes making sure the carrot and onion mixture is coated by the spices.
Drain the beans and rinse then transfer to a bowl together and mash them up (you can use your hands, the back of a spoon or a potato masher), stopping when you they are at your preferred consistency (I like it to be slightly chunky still)
Once the beans are mashed to your satisfaction add the onion and carrot mixture and stir the two well.
Now add the chilli, mustard, ketchup, a squeeze of lemon juice and soy sauce and stir well until all are well combined in the mixture.
Add the cup of oats and mix well.
Taste your mixture and play around with the seasonings until it tastes really good.
Make them into burger shapes and either shallow fry, grill or oven bake until hot and slightly crispy on the outside. Serve naked or in bun as you desire and enjoy!

Variations

Fried onions
Chop an onion into half rings and cook on a low heat in about a tablespoon of oil until soft and sweet. For extra tastiness add a pinch of sugar and a few teaspoons of balsamic vinegar while cooking.
Cheese
A slice of whatever cheese takes your fancy placed on the bun and then grilled before you add the burger.
Gherkins
Slice as many as you like and add to the ever-expanding tower burger.
Plain yoghurt
If you have made your burgers especially hot then a dollop of plain yoghurt makes a great counter-balance.
Kethcup/mustard/Brown sauce
Slather on as desired.
Greens
I like to add a few baby spinach leaves but watercress, rocket and round lettuce leaves all work equally well-it's up to you.
Assorted
Whatever you have in the fridge-it all adds to the fun! My favourites are beetroot(and not just for the gaudy hue it gives all it touches), cucumber, roasted peppers and oven dried tomatoes.