Ingredients
Serves 4
1 onion, finely chopped
2 cloves garlic, finely chopped
1tsp cumin seeds
1tsp ground coriander
300g broad beans
1 mugful basmati rice
2 mugfuls vegetable stock
50g toasted flaked almonds
This is equally delicious made with brown rice, add double the amount of liquid for the same amount of rice and cook for at least 30mins until soft.
Can be eaten cold for lunch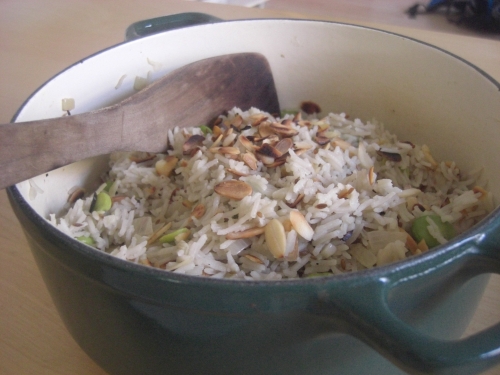 Broad Bean Pilaf
This works equally well with fresh or frozen broad beans. Eat with other salads or curry, or grilled fish. Measuring the rice in a mug makes this recipe even easier.
Recipe
Fry the onion in a little oil until soft. Add the garlic, cumin and coriander, and fry for 1min more.
Add the broad beans and rice, stir to coat in the oily spices. Pour in the stock, bring to the boil, cover and simmer gently for 10mins until the stock is absorbed.
Turn off the heat,omega replica watches cover and leave to stand for 10mins. Sprinkle over the flaked almonds to serve.