Ingredients
Serves 4
500g potatoes (or a mixture of root vegetables), grated
1 onion, grated
2 eggs
45g flour
4 tbsp vegetable oil
We cook up a huge batch of these for brunch and then warm through leftovers in the microwave or oven.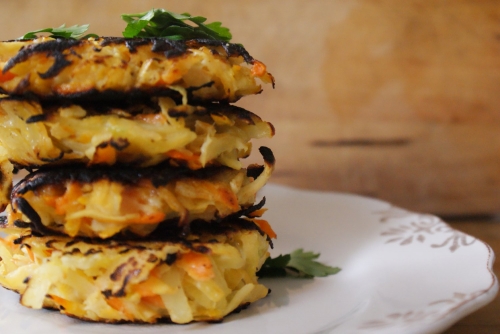 Potato Rostis
Although perfectly delicious with just potatoes, we made these with a selection of root vegetables from our vegbox, making them a lot healthier. Try any root vegetable: parsnip, carrot, swede, turnip, squash or pumpkin. Courgette and a handful of feta would be great in the summer. Eat with a fried egg for breakfast or a simple salad for lunch.
Recipe
Put the grated potato in a colander with a liberal sprinkling of salt and leave for 30mins.

Meanwhile whisk the eggs in a large bowl and add the flour. Add the potato to the bowl squeezing out as much water as possible as you go. Stir well and season (not too much salt as there's already some on the potato).

Heat the vegetable oil in a large frying pan. Add about 2 tbsp of mixture to the pan for each rosti, you should get about 8.

Make sure the heat is on medium and fry for 4-5mins on each side until golden brown.