Ingredients
Serves 4
2 garlic cloves, finely chopped
1 chilli, finely chopped
4-6 spring onions, finely chopped
1 bunch coriander, chopped
1 lime, zested
1 dressed crab
1 bunch parsley, chopped
250ml white wine
400g linguine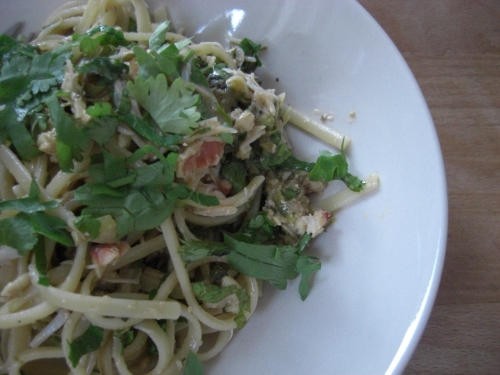 Crab with linguine, Coriander and Lime
Although a strange combination of asian flavours and pasta, this is a perfect way to eat crab, with chilli, garlic, coriander and lime.
Recipe
Cook the linguine in plenty of salted boiling water.
Meanwhile, soften the spring onions, garlic, chilli and ½ the coriander in a little oil, add the brown crab meat and white wine and cook for about 10mins until the crab has melded with the wine into a thick sauce.
Drain the pasta (reserving a mugful of the water) and add to the pan along with the white crab meat, the rest of the coriander, the parsley and a squeeze of lime juice. Stir to coat thoroughly and season. Add a little of the pasta water if necessary to loosen the sauce.